Today is release day!
I am really excited about the release of this pattern because I absolutely love this top and I enjoyed a lot making it.
This is your project if:
You want to experience with different stitches (every single row is a different stitch!)
You love using a lot of colors (you're like me!)
You want an easy-to-customize project
You want to use this leftover yarn you didn't know what to do with.
You want to choose the type of yarn (in terms of weight, material…)
You don't like rules. Yes! this pattern has no rules 🙂 Everything is possible. That's why I named it Life is a Carnival (I hope this makes sense haha).
TECHNIQUES: single crocget, double crochet, treble crochet, shell stitch, puff stitch
SKILL: Intermediate
I made two of them (but planning on making many more! 🙂 Below are some pictures, and yarn suggestions:
BULKY VERSION:
I used two different brands to make this one:
Alpachino Merino by Wool and the Gang: https://amzn.to/38EQQpu
Charima by Loops and Threads: https://amzn.to/39tqYO3
Crochet hook: 6.5 mm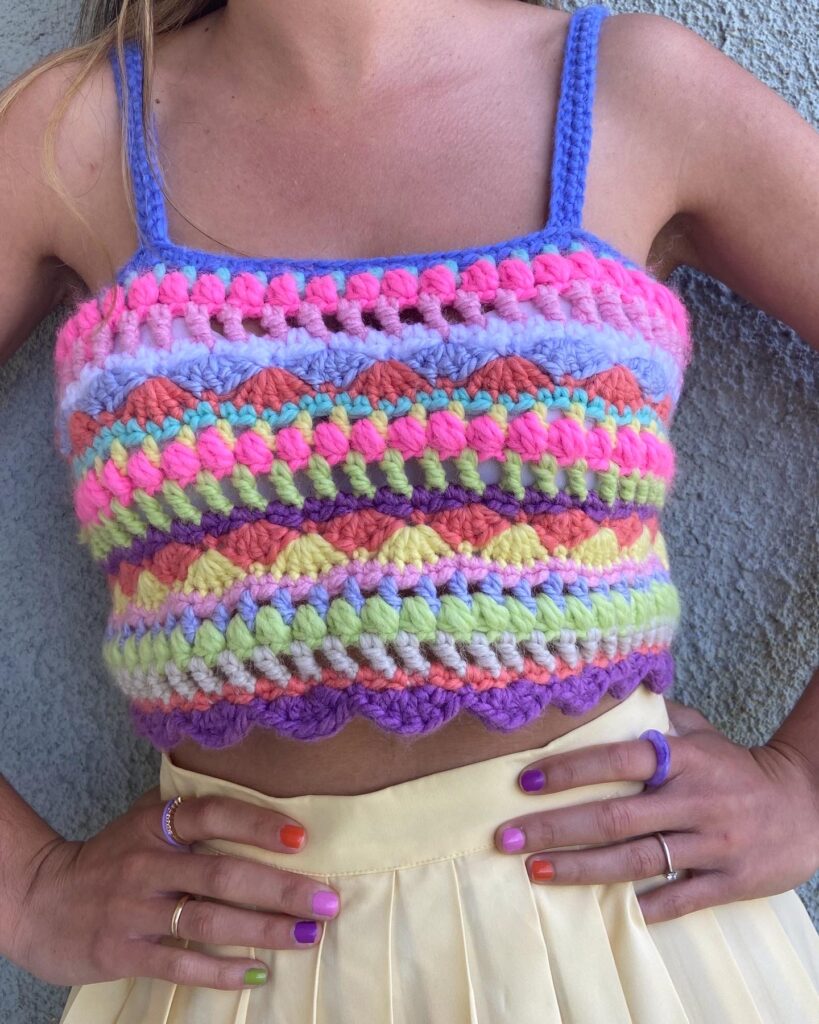 LITE VERSION:
If you prefer a more summer vibes version, you can use acrylic or cotton yarn.
I used Impeccable by Loops and Threads to make this version. https://amzn.to/3OMXBX1
In this case, I only used 4 different colors and a 4.5 mm crochet hook.
In both cases, I did 21 rows but you can add or remove rows as per the length you wish. I am planning on making a shorter version (perfect for the summer!).
If you want to get the pattern, you can find it here:
https://www.etsy.com/shop/crochetbyeep
I can't wait to see your creations!

Check on my Instagram @crochetbyeep for more images! And share with me your creations 🙂
xx